Last Updated on November 17, 2021 by Dan
The dive logbook (also referred to as dive diary or dive record book) is the most important piece of equipment for any diver. It can be thought about as an on-board dive computer, but without the bells and whistles that computers are famous for. The dive logbook is a record of all dives done by a diver and this way he/she can keep track of the amount of dives, dive profiles, dive times and so on. These notes are helpful in many ways – they provide a memory backup if something went wrong during the dive! Also, it is often used as proof when claiming insurance if something was damaged while diving.
There are multiple reasons why every diver should keep records:
When we talk about dive logbooks, we are talking about dive computers. Every dive rental dive shop will provide a dive logbook for you if you ask but it is important to have your own dive logbook regardless if you dive often or rarely.
The dive logbook page is made up of multiple parts:
– Dives section where each dive can be recorded (number, date, dive time, depth, etc.) and signed off by someone who witnessed the dive. Make sure that the person who witnessed your dives has read and signed this part! This section also contains information on safety stop and decompression status.
– Training & courses section – every diver should fill in their training records here (location, instructor's name and certification agency). If you require rescue course paperwork, dive first aid course paperwork, dive medical certificate or something else dive-related, this is the place to write it down!
– Notes section – in this part you can record any other information that might be important. For example, if a dive computer was wet, it should be recorded here. Another use for this section is writing notes about the dive site and dive experience (good/bad comments). This helps with remembering good dive locations and also helps to remember bad dive sites so that you wouldn't visit them again!
– Dive log owner's details section – usually at the front of your logbook – every diver must fill his/her personal details here. It is required by most insurance companies.
If you are already an experienced diver you probably have your own way of keeping your dive records. If not, dive log record forms are available at dive shops as well.
If you dive on a dive boat and always dive with the same dive master/ dive guide – ask them for their signature inside your dive logbook to certify that you have done the dives. This way it is more difficult for someone else to claim that they did the dives!
At least once every 12 months look through your dive logbook and make sure that there are no errors or missing information. Also, check if any of the certifications are expired (this includes diving certifications). It doesn't matter how good something was recorded before if it is not correct now – so check regularly! 
To enforce this good habit, get one or two other dive friends to check your dive logbook as well. This way you are not distracted from checking the dive logbook and it still gets reviewed frequently.
If something was damaged while diving, immediately note down what happened so that if the insurance company or dive shop requests proof of dive in order to be covered for damages, you can provide them with logs!
Another important thing is that dive shop uses dive log records for diving record checks (every dive shop requires training cards/certificates before they hire out their equipment). If you don't have a dive card, certificate or other paperwork requested by the dive boat – they might say no to renting you equipment (however, finding a certified diver on board the dive site will usually solve this problem!)
Finally, dive log books are great for keeping memories of dive trips and dive locations. This way after diving you can read through your dive logs to relive some of the moments!
To provide a memory backup if something went wrong during the dive – keep copies of dive logbooks in multiple places on different computers/services. If you were staying at a remote resort, have your dive logbook saved on their computer (or print it out before leaving). Also make sure that there is somebody who will be able to read dive record logs even when all electricity, internet and phone connectivity is unavailable (for example, always email or text your dive record logs to yourself so that you won't lose them in case something bad happens).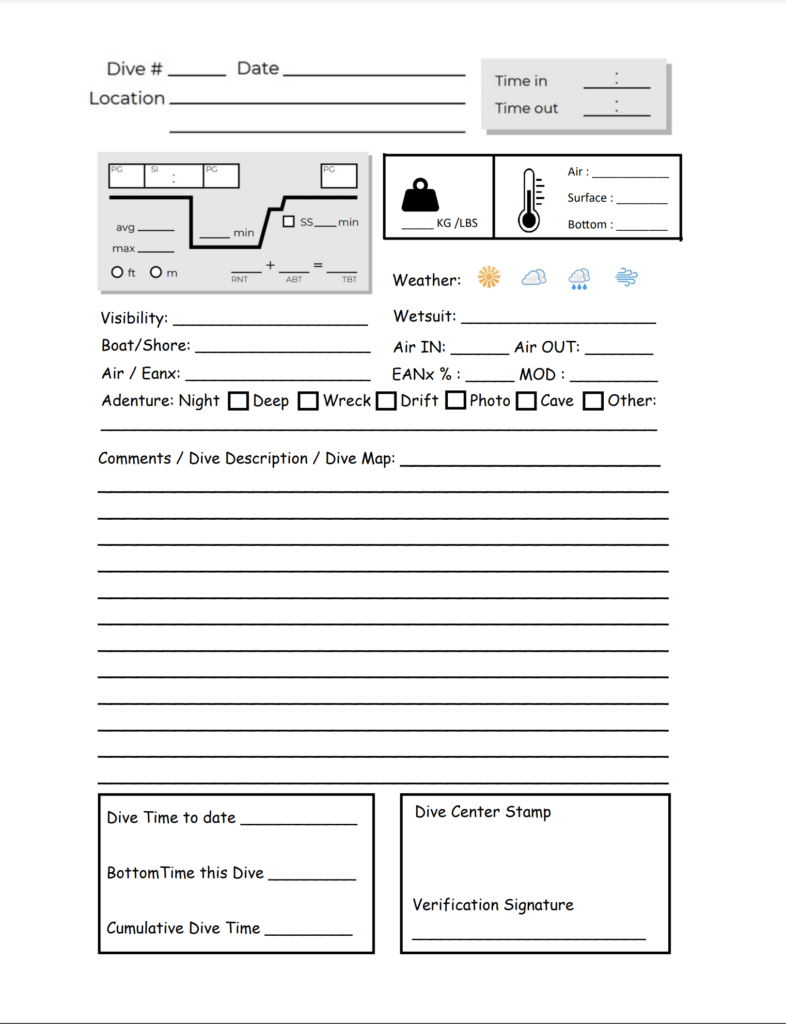 We hope this helped you and has given you some ideas. We have produced a high resolution printable PDF for you to use. You can buy it for $2 using the Buy button and print it immediately at home.
We also loved this Vintage style logbook which is an Amazon best seller as it records 100 dives and you can see all the fields inside the book using the Amazon link.
Here is a collection of popular diving log books on eBay.com
Summary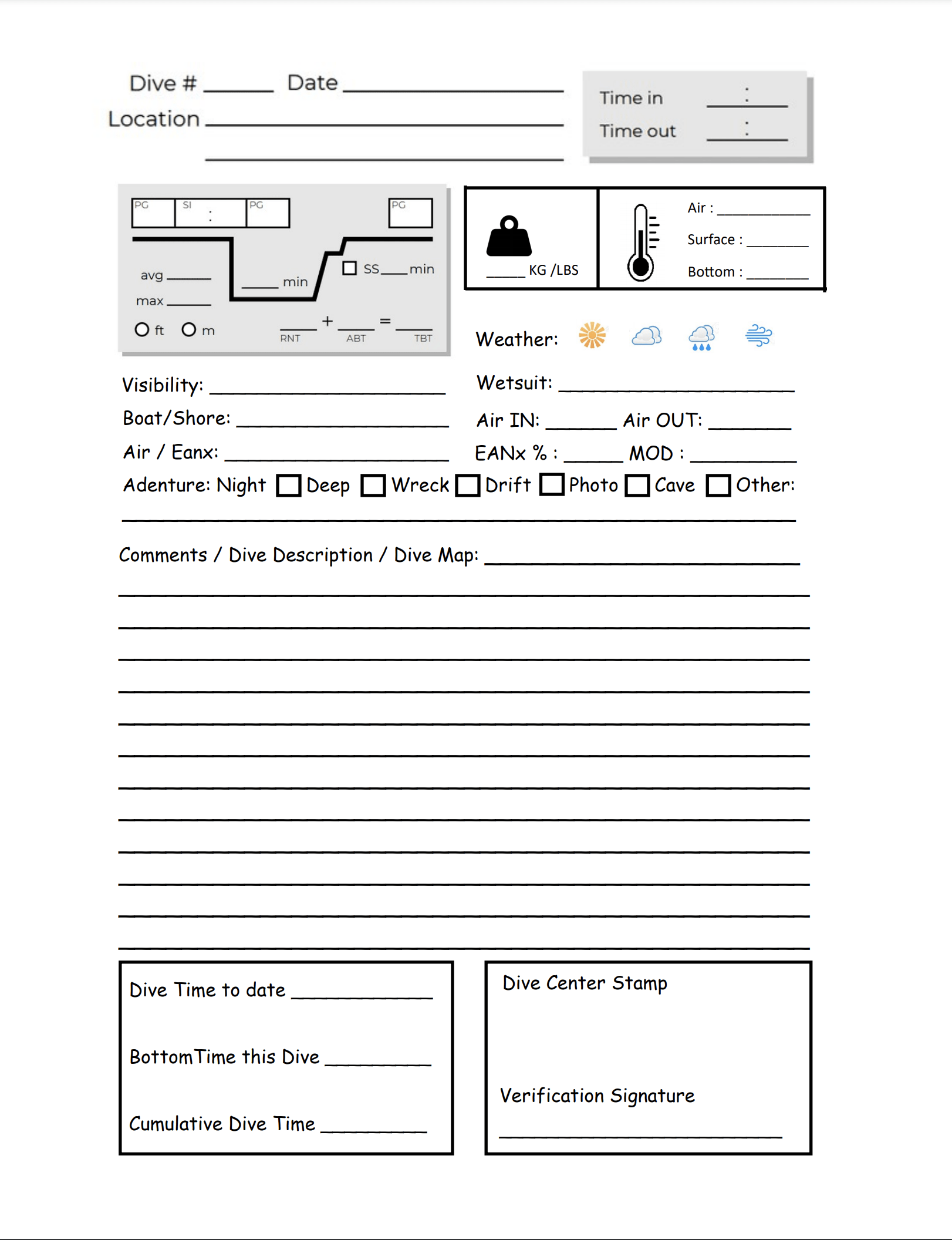 Article Name
Description
Looking for a simple way to create your own Dive Logbook? Read our tips and download our attractive logsheet.
Author
Publisher
The Best Scuba Diving Gear
Publisher Logo