Last Updated on July 9, 2021 by Dan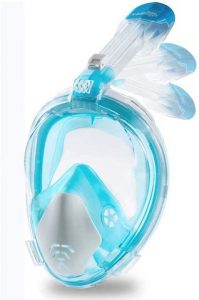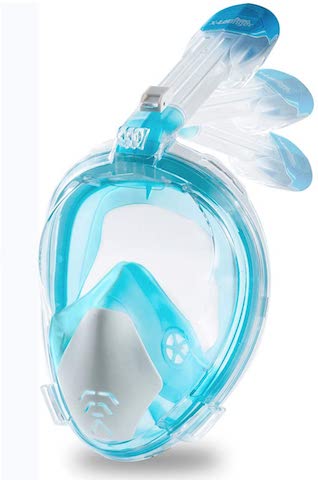 Easy Snorkel Mask is a full face snorkel mask with a 180-degree view. It's anti-fog and anti-leak technology prevent the mask from fogging up and stop water from entering the breathing tube.
The Easy Snorkel Mask's free-breathing design and innovative no-mouthpiece tubeless feature prevents gag reflexes, making it perfect for everyone.
Features
A 180-degree full face design that allows you to breathe through your nose or mouth while snorkeling.
2nd generation Dry Snorkel Technology stops all water from entering the breathing tube and the mask.
Anti-fog design stops the mask from clouding up and enables clear vision under water.
Easy design makes it suitable for beginners and experts alike.
Sizes are available for all ages.
Pros
The Easy Snorkel Mask provides a much wider and clearer view.
The mask does not fog up under water.
The snorkel valve seals and prevents water from entering. There is a valve to flush out any water that may enter.
Easy breathing through the nose or mouth.
Cons
There is no camera mount.
It cannot be used for diving.
Comparison
The Easy Snorkel Mask is a huge upgrade from the traditional mask and snorkel set. It is perfect for those who like to float on the surface of the lake or ocean and observe life below. It is light, comfortable, fog-free, leak-free, and has a much wider range of vision.
The mask comes wrapped in bubble wrap, with a reusable bag, in Styrofoam packaging.  It is an excellent buy and you will never go back to the traditional snorkel.
There are other snorkel masks out on the market that have won our trust for their superior performance. The shortlisted ones are:
Seaview 180-Degree Snorkel Mask
Tribord Easybreath Snorkel Mask.
They are both excellent choices for a full face snorkel mask.
In the following paragraph we will guide you in buying the best full face snorkel mask based on design, performance, and features.
The Seaview 180-Degree Snorkel mask
This is a great full face snorkelling mask. The silicone mask makes it lightweight, easy to wear, and comfortable. The viewing area is large and clear, and you can enjoy the scenic view of aquatic life with this advanced design.
It is suited for both kids and adults, and comes in eight colours. The best feature of the Seaview Snorkel mask is that it has a GoPro mount on top of the mask. The mount is, however, a tad flimsy and I would be careful to mount an expensive camera in the ocean.
The Seaview also can fog up sometimes which can become a hindrance, but not necessarily a problem. It is a good snorkel mask and we rank it right next to Tribord.
The Tribord EasyBreath Snorkel Mask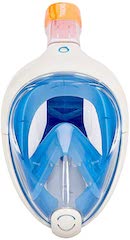 Tribord EasyBreath, as the name suggests, makes it easy to breathe when our faces are under water. Even with facial hair, the mask sits snugly and there is no water leakage. If water happens to enter, it can be drained out with the valve at the chin.
The straps are comfortable and the design of the mask is durable and shatter proof. The view from the mask is unobstructed, and the double air flow system prevents fogging. The mask comes in a variety of sizes and hence EasyBreath is a better buy if you are buying a mask for your kids.
There is no camera mounting option, but that is not a necessity for a snorkel mask. It is tad on the expensive side when compared to Seaview. It is a great full faced snorkel mask and we rate it in second place.
The Easy Snorkel Mask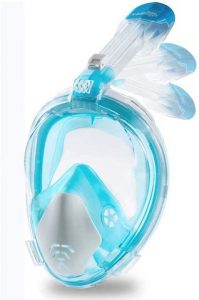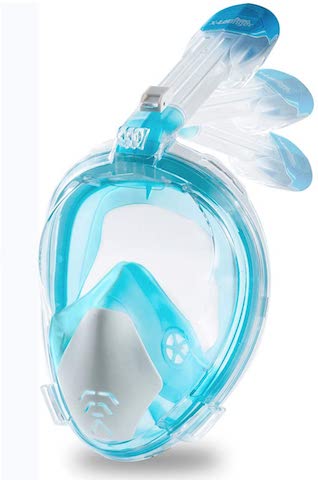 The Easy Snorkel Mask has a great design and build. The packaging is excellent and done with a lot of care. It fits snugly on the face and has no problems with a moustache or beard. There is absolutely no fogging whatsoever.
It has a wide 180-degree view as well, and keeps the water out. If water should enter, there is a valve that will drain it out. The mask is durable, and breathing is easier when compared to the other two masks.
There is no camera mount on the mask, which is not a huge problem in a snorkel mask. We rate Easy Snorkel Mask the best among all the three masks in terms of price, design, and durability. It is the best, budgeted full faced snorkel mask on the market.