Last Updated on March 20, 2021 by Dan
Maui snorkeling locations
Maui is considered world renowned for its snorkeling and diving locations.  With so many great locations to choose from it can be hard to decide where to go.  I have listed some of the top travel destinations with a brief description to help you at least narrow down your options.
Molokini Crater – Is a partially submerged volcanic crater shaped in a half circle. It lies off the coast of Maui towards Kaho'olowe. Its has been declared a Marine Life and Bird Conservation District which protects the animals that call it home and aids in keeping the waters crystal clear.  The visibility in the water is so good which allows the suns rays to penetrate as low as 150 feet. There is a beautiful coral reef situated in the waters below this area.  You will find many species of fish as well as marine animals including manta rays, octopus and even reef sharks.  All levels of experience welcome here but will be directed to different areas of the crater.  Read Snorkeling in Maui – Molokini Crater to learn about each section.
La Perouse Bay –  Located on the south side of Maui within Ahihi Kinau Natural Area Reserve.  Much of the reserve is closed, including La Perouse Bay, until the end of July 2016 to help the ecosystem rebuild due to overuse.
Turtle Town – Located at Maluaka beach and is the location for tourist looking to view sea turtles in their natural habitat.  There are coral reefs at the southern end of the beach where you can find the protected Hawiian Green Sea Turtles swimming at the place they call home.  The turtles are covered in green algae which might be the reason they were named green sea turtles because they are actually shades of brown in color.  They swim to cleaning stations where the yellow tang fish help to clean their shells by nibbling at the algae.  They are protected animals so feeding and touching the turtles is not allowed but if you swim very calmly they might just swim right up to you to get a closer look.
Honolua Bay – Maui snorkeling can be done here by just walking right into the waters.  Many surfers find the break at this bay to be perfect but not to worry it is in a different location from where you would be snorkeling.  Find the perfect spot sheltered from waves where you can have worry free snorkeling session.  These waters are also protected so you will find abundant marine life at this location as well.  Be sure to swim out a little ways and look between the coral and lava rocks to find the animals that may be trying to hide from your view.
Lanai – Located on the west side of Maui.  You must charter a boat out to this uncrowded location but will find more of Maui's beautiful snorkeling nooks here.  Dolphin and turtle sightseeing will also be on the agenda and on occasion whales have also been spotted.
Kapalua Bay – North west side of Maui.  Snorkeling Maui has never been easier because of the convenient location of this beach.  It is a perfect spot to bring the kids and the calm water is perfect for the entire family to feel safe snorkeling.
Kaanapali Beach – West side of Maui.  Highly rated beach where you can just walk out to snorkel in the clear waters.  There are many shops and restaurants along the beach as to keep everyone entertained.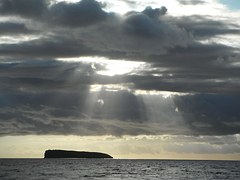 Top Rated Excursions
Snorkeling Maui is an amazing adventure but make sure you select a great tour company so that you get great service as well.  The contenders below all have a five star rating.  Read Maui Snorkeling Locations to learn about the different areas for snorkeling in Maui.  If you know you would like to learn about Molokini Crater snorkeling/ diving locations then read this article.  There is no need to pack a snorkeling mask or any of your snorkel gear as all the charters will provide all the equipment you need.
Top rated excursion to Molokini Crater and Turtle Town: Kai Kanani Sailing Charters.
Be sure to book online with this company to receive a 10 percent discount.
Molokini Express Tour – Check in is at 6 am. and the tour runs from 6:30 – 8:30 am.  Breakfast and beverages are included in this package.  This excursion leaves early so that you have access to the calm morning waters and the relaxed atmosphere before the other excursions start heading out to Molokini.  You will not only get to snorkel at Molokini Crater but they will also take you to snorkel with the Green Sea Turtles that call Turtle Town their home.  Online prices for adults are $ 67.
Molokini Deluxe Tour –  Need a little more sleep in the morning?  Check in is at 8:30 am. and the tour runs from 9:00 – 1:00 pm.  Breakfast, lunch and beverages are included in this package.  First you will head out to world renowned Molokini Crater to see manta rays, morays, dolphin and countless other marine life.  Next take a 15 minute ride over to Turtle Town to swim with the captivating turtles that are protected in these waters.  While sailing back to port you will have the opportunity to do some sightseeing for the larger mammals that roam these waters. The Online prices for adults are $135.
Top rated excursion Kayaking out to snorkel at Turtle Town or Olowalu Turtle Gardens:  Maui Kayak Adventures.
This 5 star rating contender is led by a Certified Marine Naturalist that will give you great information about the marine environment that you are in.  You will paddle to snorkel the reef, view the Green Sea Turtles and do some whale watching. Private tours are also available.
Olowalu Group Tour:  This tour runs from 7 – 10 am.  You will kayak to Olowalu where you will snorkel the reef system and do some whale watching.  Then you will be led to the Turtle Gardens where you can watch the famous Hawaiin Sea Turtles getting cleaned by multiple coloful fish at designated turtle cleaning station.  Price of this tour is $89.
Turtle Town Group Tour:  This tour runs from 7 – 10 am.  Get to turtle town early while it is calm with few other tourist.  You will get to snorkel the reef in this area and be brought to the sections where the Green Sea Turtles are known for hanging out.  You will also paddle back off shore to view Humpback Whales from a safe distance.  Price of this tour is  $89.
There is one more top rated contender on the island.  It is a mix of Kayaking and Snorkeling and you can add a Surfing lesson in with it too.  Kellii's Kayak Tours.
Kayaking and Snorkeling:  Leave at 7:30 or 11 am on a 2 1/2 or a 4 1/2 hour tour.  You will snorkel the beautiful reefs in Turtle Town where you will see the Hawiian Sea Turtles.  You will most likely view dolphin and whales when in season.  This adventure is for all skill levels and ages 5 and up.  Prices are from $69 – $99.
Surfing, Kayaking and Snorkeling:  Leaving at 7:15 this 6 1/2 hour adventure starts with surfing.  This is for first time surfers who would like to learn in the waters of Hawaii.  After surfing you will come in to enjoy lunch.  You will also do all the activities listed above in the kayak and snorkeling tour after lunch.  All equipment will be provided for you.  Price is $139.
Our favourite excursion: Molokini crater
There are eight sections of Molokini crater each with its own distinct features.  Some sections are better suited for snorkelers, some for diving and some work great for both.  So everybody of any diving level are welcome to come out just make sure to find the section best suited for your needs.  Molokini is world renown for its warm waters, beautiful snorkeling and underwater scenery so no matter what section you select, you won't be disappointed.  
Molokini Crater lies 3 miles off the coast of Maui and can only be accessed by boat so you will need to find a local company that goes to this location.  Snorkeling excursions leave early in the morning as to catch the calm waters.  The excursions usually last around 5 hours and have food and drinks included.  Be sure to book your tickets in advance as spots seem to fill up quickly.  I recommend looking at reviews from other travelers who can tell you if they were happy with the service that was provided with each charter.  See the map below the post to correlate the numbers on the map.
Quicksilver Charters – Not one of the eight sections of the crater.  This is where the Quicksilver Charter anchors at the crater.
Tako Flats -Snorkelers and beginner to Intermediate divers.  This is located on the inner west side of the crater.  It is a shallow section of 20 – 40 feet and know for octopus sightings but that's not all you will see. White tip shark at Molokini Crater.
Middle Reef – Snorkelers and all level divers – Located at the middle of the crescent shape of the crater.  There is an underwater mount that rises up.  This is the section of the crater that you will find the best corals in Hawaii.
Reef's End – Beginner to Intermediate divers. Located at the tip of the crater and known for great visibility.   Be prepared to see possible sighting of barracuda, white tip sharks hiding within the shelves, and large manta ray gracefully gliding by.  I almost forgot to mention the moray but there are tons of them that call this section of the crater home but also a vast list of other marine life as well.  Reef's end does not disappoint when it comes to sightseeing the underwater ecosystem.
Shark Condos –  Find Maui reef sharks in this section that lies around 130 ft.
Enenue –  The shallow sections are good for beginners, as it gets deeper the experience goes up.  At 55 feet you will reach the base of the crater but will find a 130 ft. drop off over the shelf.  In the shallow sections hand feed butterfly fish.
Flying Sea Cliffs –  The shelves begin around 50 ft. but you can continue down another 80 ft. below that.
Back Side –  Experienced divers.  Located on the back side of the crater where it is not protected from the currents so this dive is done as a drift.  Exposed to the open ocean where larger aquatic animals may be spotted.
Edge of the World – Experienced divers.  Also on the back side of the crater with the deepest sections on this side at 250 ft.  This side is usually shaded so houses many deep dwelling fish not seen in other areas.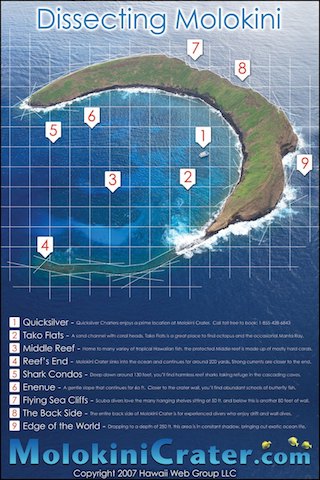 Looking for the perfect Snorkeling Mask, click here.